Welcome to the homepage of St. Bonaventure Publications
We are dedicated to preserving and maintaining Catholic books, pamphlets and other literature. We are always happy to have suggestions for reprints, send us an email. Perhaps your favorite out of print book is on our list to be reprinted or it might be one we are interested in!

Sale items!
Only while supplies last!

- Imperfect St. Andrew Daily Missals - $58.00
minor cosmetic imperfections
Limited Number!
Click here to see examples
Click here to go to our online store
- Liturgical Year - $175.00 (currently out of print)
Click here to go to our online store
The remaining individual volumes of the Liturgical Year are now available in our online store, Prices start at $20 per book.

We have a few individual volumes of the Butler's Lives of the Saints, they are listed on our online store, very limited quantity. Click here to go to our online store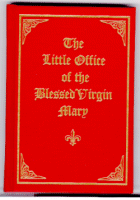 We are pleased to bring back into print, The Little Office of the Blessed Virgin Mother! Click here to go o our online store and order your copy!
Click here to order your St. Andrew Daily Missal!
Are you looking for some of your favorite TAN books! We are now offering a large selection at great sale prices. The Mystical City of God and close to 200 more titles! On Sale at up to 85% off regular price! www.catholicbooksellers.com, Please click here to go to our TAN Titles web site.
Fr. Owen Francis Dudley You and Thousands Like You $15.00,
This is the last book in the Problems of Human Happiness Series, however it is not written in novel format. This book is considered to be more of an apolgetic, it makes me think of that is is perhaps what would have been in the talks by the masterful Monk.
Now available for ordering in our online store, just click here.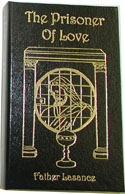 This is one of the most treasured prayer books by Fr. Lasance, The Prisoner of Love! $27.00 Currently Out of Print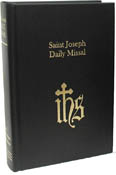 The Saint Joseph Daily Missal - $58.00 Please click here to go to our online store
We Accept

&

You can purchase online - just click on our online store , add the items you want to your shopping cart and check out when you're done! If you prefer to order by telephone, 406 452-5452 to place your order. Or fax your order to us, our fax is 406 452-9752. Our office hours vary, generally we are in M-F 9-3 MST.
Please E-mail us with any questions or suggestions and thank you very much for visiting our site!
St. Bonaventure Publications
PO Box 2750
Great Falls, MT 59403-2750
Phone 406 452-5452 Fax 406 452-9752
Last revision to this site December 2014
All images on this site are copyrighted